Mindfuck demo som naprogramoval pre Forever XIII demoparty, ktorá sa konala 16.-18.3.2012 v Hornej Súči pri Trenčíne. Demo som v podstate písal preto, aby som na Forever neprišiel z prázdnymi rukami a mohol sa odprezentovať nejakou produkciou.
Čo som nečakal bolo, že som vyhral 1. miesto v kategorii Atari Demo, aj napriek tomu, že prezentačný dataprojektor akosi "zhltol" farby a daný efekt vlastne vôbec nebolo vidieť. Veď posúďte sami:
Kažopádne som si až pri spracovávaní videa všimol, že som vlastne XImu dal do súťaže predošlú (akože nie finálnu) verziu dema, kde je navyše orámovanie (ktoré na NTSC nebeží).
Update 2.4.2015: Forever winning sheet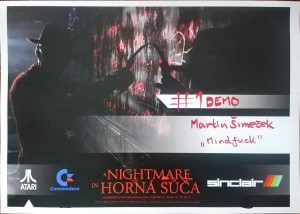 Info
This post has been displayed 9444 times.
3 Responses to "Mindfuck"
JAC! Says:
20. 3. 2012 at 20.41

Really bad luck with the projector – in fact most "HQ" projectors produce such resuls when used with "not so new" hardware. Cool idea, tune and execution though! Would love to the the sources.

MatoSimi Says:
20. 3. 2012 at 21.51

sources added

PPs Says:
23. 3. 2012 at 18.39

Really nice thing 🙂

Congratulations for your first place.
Leave a Reply