New version of Atari FontMaker has been released.
Most recent version is on central Atari FontMaker page.
Philsan asked me to add export option for FastBasic, so added it just for fun to bring some old memories.
It has already been 3 years since the last update.
Atari FontMaker is written in Delphi, fortunately there is a Community edition available so it was not that hard to prepare the environment for the change.
After years of working in different languages it was really painful to get back to Pascal/Delphi..uh oh… ugly ugly ugly.
Code can be found here: sourceforge
Fortunately google provided solutions to all issues that came up during implementation… so here it is: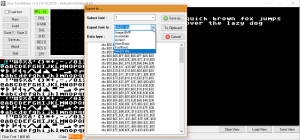 Changes:
export dialog contains the output
copy "To Clipboard" button added
also ctrl+a, ctrl+c is working
added FastBasic export
added MADS dta export