After unbelievable five years I'm releasing new version of FontMaker. Fly gave mi impulse to add one feature and Raster said that it would be handy, so I decided to implement it.
Added features:
exit confirmation dialog
possibility to add single font (*.fnt) or dualfont (*.fn2) as parameter for EXE, so this fontfile will be loaded when program starts. Now you can associate file externsions fnt,fn2 to open in FontMaker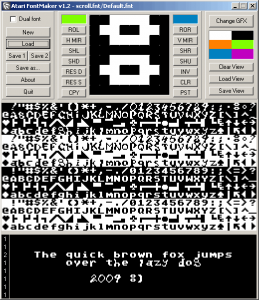 I just want to say this program is written in Delphi extremely stupidly and unlogicaly so I couldn't believe that I wrote shit like this. I thought that I will spend 10 minutes to implement these 2 little features but it took me hour and half. Terrible IDE, terrible language, terrible code.
Please download Atari FontMaker from its main page.
Enjoy!