Minule ma tak napadlo, že by nebolo odveci vedieť koľkokrát som kompiloval zdroják od začiatku programovania až po finish.
Zbastlil som si na to utilitku ExCounter.exe v C#, ktorú pohodlne spúšťam z môjho code editora PSPad.

V podstate je to totálne easy. Program vytvorí *.txt súbor, ktorý obsahuje iba 1 číslo, ktoré sa inkrementuje ďalším spustením. Číslo je zapísané vo forme reťazca, takže pre zistenie počtu spustení (kompilácií) stačí otvoriť texťák dvojklikom.
Program sa dá spustiť v 3 variantoch:
ExCounter.exe – vytvorí file [exe]_cnt.txt s counterom, konkrétne ExCounter_cnt.txt
ExCounter.exe -i "file.ext" – vytvorí file file.ext_cnt.txt s counterom…
Teda napríklad:
ExCounter.exe -i "summertime.asx" vytvorí súbor summertime.asx_cnt.txt.
ExCounter.exe -o "file.ext" – vytvorí file file.ext s counterom… – toto sa hodí v prípade,že sa ti nepáči môj tvar _cnt.txt.
Nazáver screenshot nastavenia highlightera v PSPad: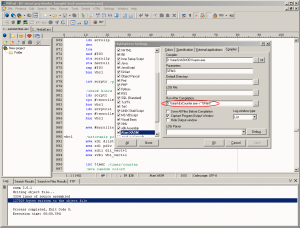 Výsledok: