Po neuveriteľných piatich rokoch som sa dostal k tomu aby som vytvoril novú verziu FontMakera. Bolo to na podnet Fly-a a ked som to spominal Rasterovi, tak sa priznal, že aj on by taku feature uvítal… takže to už sú dvaja záujemci, snáď ich bude viac…
Pridané fičúrky:
confirmation pri exite
možnosť podhodiť single font (*.fnt) alebo dualfont (*.fn2) ako parameter ku EXEčku programu, takže sa tento font naloaduje pri spustení… tzn. možete si nastaviť asociáciu prípon fnt,fn2 nech sa otvárajú vo FontMakeri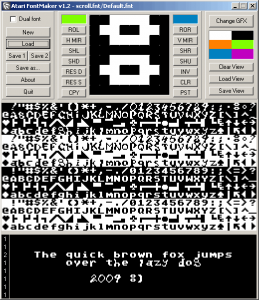 Na záver poviem len toľko, že tento program je písaný v Delphi a tak nenormálne nesystematicky a nelogicky, že som ani neveril, že taký balast som niekedy mohol napísať. Človek by si povedal, že zapracovať také detaily musí trvať nanajvýš 10 minút, ale strávil som pri tom asi hodinu a pol. Hrozné IDE, hrozný jazyk, hrozný kód.
Enjoy!
Info
This post has been displayed 28237 times.
2 Responses to "Atari FontMaker v1.2"
raster Says:
20. 3. 2009 at 14.14

Diky za tu podporu nazvu font souboru v command line, je to uzitecna vec.

Ilmenit Says:
10. 9. 2009 at 11.39

Pekne dakujem! Velmi uzitocny program a pouzivam go pri vytvarani mojej hry.
Leave a Reply