Citoplazma is latest demo by Demodogs (A.K.A Demopsi) group. My part on this production was coding, directing and putting all together. It took me 5 days to write this demo from scratch. I know it is not breathtaking, but I hope you like it.
Citoplazma was created for Forever C 8-bit multiscene demoparty. This demo has been run first time at the party… I mean run on real Atari HW (I own Atari 800XL without any memory extension so I could not test it by myself). Some issues came up and now I'm trying to fix it.

Demo has been run on machine with 256KB memory extension, but all you need to run it is ordinary Atari 130XE. Music is stereo, so it plays weirdly on machine without stereo modification. Bug that appeared during presentation came up when picture with girl switched to picture with blue scroll. Music got messed up after that moment. I have made some changes in extended memory usage and fixed one NMI vector change. I hope it works well now.
You can download latest version below, please post feedback in comments if it works on your real HW.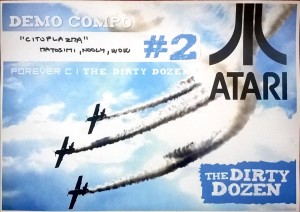 Download:

Video: