Citoplazma je najnovšie demo grupy Demodogs (alias Demopsi). Mojou úlohou na tejto produkcii bolo zmastiť kód, zrežírovať to nejako a celé polepiť dokopy. Vytvorenie tohto demka mi zabralo 5 dní roboty úplne od nuly. Viem, že to nieje dychvyrážajúca pecka, ale tak hádam sa páči.
Zbúchali sme ho na Forever C, čo je taká jedna multiscénová 8-bit demoparty. Na Foreveri bola citoplazma pustená prvýkrát na reálnom HW (mám len Atari 800XL bez rozšírenia pamäte, takže som to nemohol testnúť vlastnoručne), ako obyčajne nastali s behom problémy, ktoré sa teraz snažím opraviť.

Na foreveri bolo demo púšťané na stroji s 256KB rozšírením, avšak na spustenie stačí bežné Atari 130XE, samozrejme, že bez sterea bude hrať muzika divne, ale na tom až tak nezáleží. Pri prezentácii dema sa vyskytol bug pri prechode z obrázku slečny do obrázku s modrým scrollom, presnejšie sa pokazila hudba a hrali nejaké pazvuky. Upravil som využitie externej pamäte a fixol jedno switchnutie NMI vektora, hádam to už bude ok.
Nižšie je teda download aktuálnej verzie, pokiaľ niekto máte možnosť testnúť demo na reálnej mašine (Atari 130XE a vyššie), napíšte mi comment, či všetko prebehlo OK, resp. kde to robí blbosti.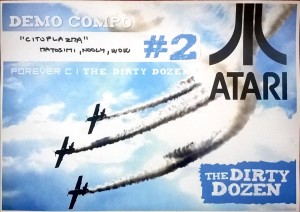 Download:
Video:

Info
This post has been displayed 9739 times.
One Response to "Citoplazma"
Tinctu Says:
22. 3. 2011 at 10.28

Nice / Pekne / Hezky ! ! !
Leave a Reply