Lot of work has been done on Atari FontMaker since version 1.4. There were several things fixed and some nice features added.
Most recent version is on central Atari FontMaker page.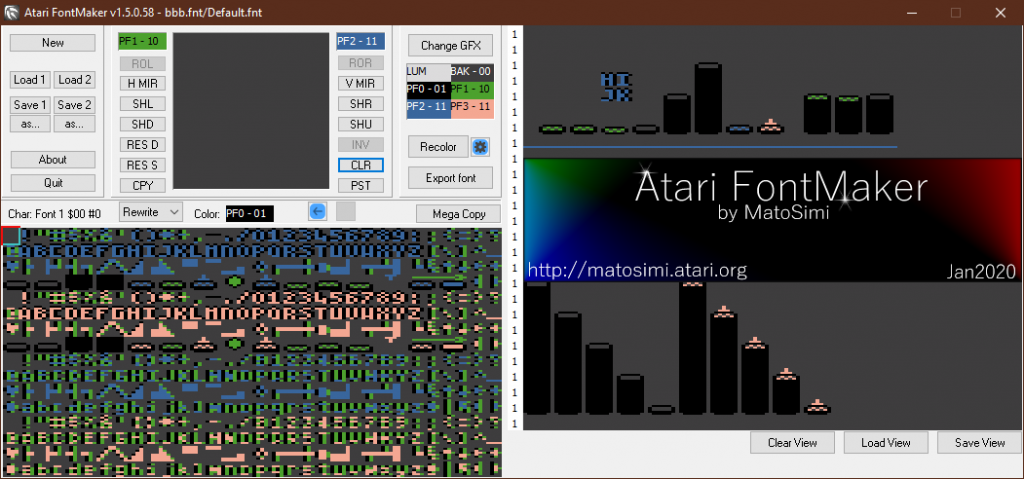 Download
Please download Atari FontMaker from its main page.
Changes/Fixes
Classic Windows color selector dialog replaced by Atari Color Selector dialog (laoo palette)
Fixed relationship between hires mode colors (foreground luminance and background)
Right click on Char Edit window now draws with background color
Load view button now opens dialog that contains only one filter for all view file types (*.atrview,*.vf2,*.vfn)
Allows to open not only *.fnt but also *.atrview as executable parameter – this allows to drag&drop *.atrview file to Atari FontMaker executable to directly open the view file including the embedded fonts. (It is also possible to manually associate *.atrview extension to Atari FontMaker)
DPI awareness fix – Now application windows display correctly on screens with higher DPIs.
Rearranged Load/Save buttons and functions.
Dualfont option has been removed, however it is still possible to load Dualfont (*.fn2) using Load1 button.
New features
Added Rewrite/Insert option to Char Edit window

Rewrite(default) changes drawn pixel to selected color and then back to background color if overdrawn
Insert changes drawn pixel to selected color (not changing to background if overdrawn)

Copy/Paste now uses windows clipboard, it is based on JSON format (so you can store what you copy to notepad or other text editor) and you can also copy and paste from/to different instances of application
Default font and palette is now embedded in the executable and extracted on application start
Mega Copy mode

Controlled by Mega Copy toggle button
When in Mega Copy, you can select rectangle area of characters by mouse on view window as well as on font window, then you can copy and paste the area by CPY/PST or Ctrl+C/Ctrl+V
When pasting to font window font data is rewritten
When pasting to view window character data is rewritten

New view file format (JSON based) with file extension *.atrview. New view file format contains also both fonts and user is prompted if embedded fonts should be loaded together with the view window data.
Undo/Redo function for font data controlled by buttons or Ctrl+Z/Ctrl+Y
Global hotkey support

, . – previous/next character
1 2 3 – select color
R Shift+R – rotate character left and right
M Shift+M – mirror horizontal and vertical
I – invert character
Ctrl+C Ctrl+V – copy and paste
Ctrl+Z Ctrl+Y – undo and redo
Enjoy 🙂