v.021:
Changed (corrected) display of filename obtained from header of T2K file – especially TurboBasic filenames. Minor bugfixes.
v.02 (6.2.2006):
This application can decode audio record from tape in Turbo2000 format into ATARI binary *.XEX file and also can decode TurboBasic programs saved in Turbo2000 format (TSAVE/TLO) into *.TBA file. You have to record your program from tape to WAV format (8bit mono 44kHz). This conversion is very effective.Using this method, you can decode every program (doesn't matter of program size unlike method when you need to use SIO2PC cable and Tutodis3) and save it on disk. This application should help co convert every program from tape to disk. More information in manual.
Screenshot: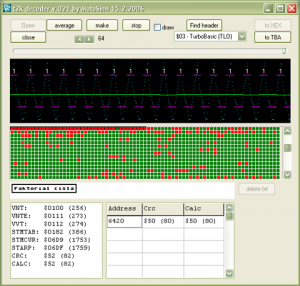 Info
This post has been displayed 30467 times.
7 Responses to "T2K decoder v.021"
Leave a Reply